This is the era of cloud computing and every company is trying to keep their feet on this fast increasing field and Veritas is one of them. Recently, they have come up with their new product which is called CloudPoint and its latest version 1.0 is released for general availability.
Veritas CloudPoint is specifically built for the data center and multi-cloud environments like Amazon Web Services (AWS), Microsoft Azure, Google Cloud, HDS G-Series, HP 3Par, and Nutanix.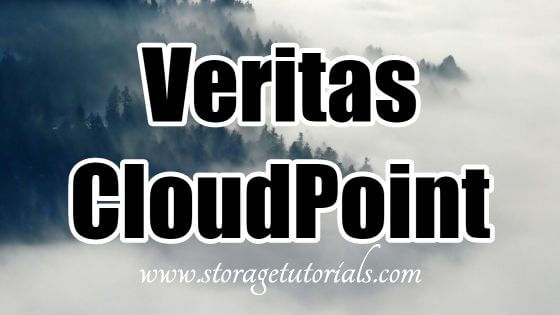 CloudPoint provides snapshot based data protection that helps traditional and modern applications, spread across private, public and hybrid clouds and provides a consistent recovery experience. It is one stop for all backup solution for all your applications irrespective of what cloud you are using.
Features of Veritas CloudPoint
Native, multi-cloud data protection.
Streamline and automate backup.
Application consistent backup.
Faster recovery with finer controls.
Modular architecture for rapid workload integration.
Indexed backups for easy search and fast recovery.
Auto-deletion of expired backups.
Easy to use user interface and reporting.
Veritas CloudPoint is a light-weight software that offers consistent snapshot-based backup for programs and workloads in an extensive range of cloud structures and storage arrays. It will support ever increasing traditional data and cloud workloads like Microsoft SQL, Oracle, AWS RDS, Aurora, Redshift, Cassandra, MongoDB, and CouchDB.
In CloudPoint, there are 2 interfaces i.e. a user interface and an API. The user interface provides a simple web-based GUI for backup scheduling, policy creation, monitoring and reporting across your cloud environments.
With API, the end-user can control and interact with the software easily and it also permits a consumer or a 3rd party to build custom software that interacts with CloudPoint. So, it is very flexible also.
The modular structure allows for autonomous improvement of workload plugins so new releases of functionality will not then have to wait for the major software release.
It is interesting to know that CloudPoint is distributed as a Docker container image that is built on an Ubuntu 16.04 Server Long Term Support (LTS) base image. This image contains all CloudPoint services, MongoDB, and a web server to support the CloudPoint GUI.
Becuase of this container image, it has very minimum installation requirements and requires few commands to deploy.
Where to run CloudPoint?
If you are thinking, where you can use this software, then just read below points and you will get the idea as Veritas CloudPoint can be deployed in the following ways:
Use on-premises to manage on-premises assets.
Deploy on-premises and manage assets in one or more clouds.
Use in a cloud and manage assets in that cloud.
Use in a cloud and manage assets in multiple clouds.
Demo Version of Veritas CloudPoint
If you are interested to try CloudPoint from Veritas, please use below link to signup and download Veritas CloudPoint.
---
Hope you have found this information helpful and if you have questions or feedback, please tell through your comments. We are sure, CloudPoint will prove itself and surely help business to run smoothly and in cost effective manner.
We will try to learn this product and make tutorials on CloudPoint for you. Don't forget to share this article if you like it and subscribe to Storage Tutorials by Email, so you can get latest tutorials and news directly on your email.
Source: https://www.veritas.com/product/backup-and-recovery/cloudpoint