Storage sector is in boom in the Information Technology industry and there are lots of service and products provider in this field. These storage companies also provide basic and advance storage certification to boost your knowledge and get a good job or position in the storage industry. We will cover some of those basic storage certifications for IT Admins.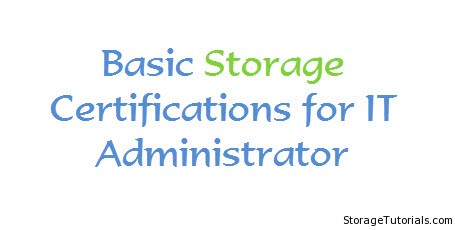 5 Basic Storage Certifications for Administrator
1. Information Storage and Management v2 (EMCISA): This is the very basic storage certification by EMC which covers basic storage topics about RAID, NAS, SAN, Cloud storage etc. Topics which are covered in this exam are storage system, storage networking technologies, Backup, Archive, and Replication and Cloud computing, and Security and Management of storage infrastructure.
Recommended Article: Must have Storage Books for Beginners
The duration of this exam is 90 minutes which consist of 65 objective questions. Exam code of this storage certification is E10-001. EMC also provides free practice tests to assess your knowledge in preparation for this exam. This storage certification is good for IT professionals and students.
Exam fee of Information Storage and Management v2 is about $200.
2. CompTIA Storage+ Powered by SNIA: The CompTIA Storage+ powered by SNIA exam is a storage foundation certification which has replaced SNIA SNCP Foundations exam. This exam gives knowledge which is essential for managing data storage, storage networking, data protection and other technologies.
The exam Code of this exam is SGO-001 and this exam is of 90 minutes for U.S. and Canada with 100 question and passing score of 72%. Exam material is available in two forms viz. eCourse learning and instructor led classroom training.
Exam fee of CompTIA Storage+ is $261.
3. NetApp Certified Data Management Administrator (NCDA): This certification holders have ability to perform in-depth support, administrative functions, and performance management for NetApp storage controllers running the Data ONTAP® operating system in NFS and Windows® (CIFS) multi-protocol environments.
NCDA certified engineer is able to implement high availability controller configurations. They also have detailed knowledge of SnapMirror®, SnapRestore®, and SnapVault®, which they use to manage and protect mission-critical data.
Before taking this exam you should have at least 6-12 months of experience in administering NetApp storage solutions. The practice test is also available for this exam. The exam fee for NCDA exam is $150.
4. Hitachi Data Systems Qualified Associate (HAT): This is an entry level foundation certification and check candidate knowledge of storage technology and concepts. This exam covers data management and storage systems, components and technologies, networking, business continuity and replication, virtualization, file and content management, performance and protocols.
Exam code for this test is HAT-050. This is a 60 minute exam which contains 35 questions and passing score is 65%. Hitachi Data Systems Qualified Associate (HAT) exam fee is $100. This exam is available at Prometric test centers.
5. IBM Tivoli Storage Manager V7.1 Fundamentals: This exam covers IBM Tivoli Storage Manager (TSM) family concepts, TSM Server Architecture, storage and device concepts, TSM client concepts, Disk, Sequential storage, copy pool etc.
Exam code for this test is C2010-509. This is a 90 minute exam which has 63 questions and candidate should score 66% for passing. IBM also offers sample test for this exam.
The Exam fee for this exam is $200 in the United states and Canada. The exam fee is different according to the country.
---
These were a few of the basic or beginner storage certifications for IT administrators which can boost their career and take them to new heights. Choose certification which is best for you and currently you have little working knowledge of it. If we miss any basic storage certification you know, please let us known through your comments.