Catalog backup is required to protect Netbackup internal databases. The catalog contains setup information as well as critical information about client backup and thus it is very important to protect them. They are tracked separately from other backups to ensure recovery in case of server crash. Backup information includes records of the files that have been backed up and the media on which the files are stored. The catalogs also contain information about the media and the storage devices.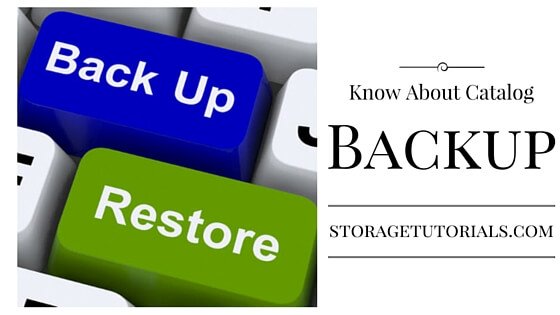 To restore any file Netbackup needs information from the catalog to determine where the backup for the file is located. Without a catalog, NetBackup cannot restore data. This catalog backup is configured using catalog backup wizard in NetBackup tool and backup backs up catalog-specific data as well as produces disaster recovery information.
Recommended Article: How to Eject Media from Tape Library in Netbackup
Note: This backup is configured separately from regular client backups.
Types of Catalog Backup
There are basically 2 types of catalog backup, which are explained below.
1. Offline or cold Catalog Backup:
Offline catalog backup is backup which runs after all the backup are completed and it should not be run when regular backup activity occurs. Offline, cold catalog backups use media from the NetBackup volume pool only.
2. Online or hot Catalog Backup:
These backup run in an active environment when another backup is running. The online catalog is policy-based, which means that it has all of the scheduling flexibility of a regular backup policy. Online, hot catalog backups use media from the Catalog Backup volume pool only.
Catalog backup is thus very important and must be configured correctly and very helpful at the time of recovery. So when you configure your storage device in any backup tool, don't forget to configure catalog backup policy.
---
Hope you like this informative article on "Catalog Backup" and will share it with your friends & colleagues who need information about it. Let us know if you have any feedback for this article or want some other tutorials through your comments and emails.