Symantec / Veritas Storage Foundation and High Availability (SFHA) is not a new product and is a well know storage solution product. In this tutorial we will guide you step by step to install Symantec / Veritas SFHA 6.1 on your Red hat Linux machine in VMware workstation.
Sometimes many new sysadmins think that it is not possible to install Veritas Storage Foundation and High Availability (SFHA) on OS installed in VMware workstation. But that is not true. You just need all compatible hardware and software to complete your installation. This installation is good for your test lab and practice.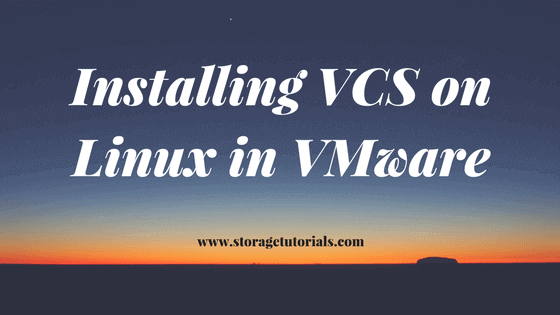 Hardware/Software Required for Setup
1. Laptop/Desktop with 64 bit Operating system.
2. Virtualization on base machine i.e Laptop or Desktop.
3. 64 bit Red hat Linux 6 new version.
4. Storage Foundation 6 setup from Veritas (Download trail version).
Once you have the above things you are good to install your SF/HA solution product. Make sure you have installed 2 same version Linux operating system on your VMware workstation for 2 node cluster.
Recommended Article: 5 Basic Storage Certifications for IT Administrators
Steps to Install Symantec / Veritas Storage Foundation and High Availability (SFHA)
1. Put downloaded SFHA tar file to your virtual Linux operating system in /tmp folder and extract it there.
2. Now browse the extracted zip file and change directory to rhel6_x86_64/ which is setup folder for Red hat 6, 64 bit OS as shown below. Here you will find installer script, just execute that as shown.

3. After running the installer script, you will see task menu of Symantec Veritas SF/HA install program. Here you can choose "I" for installing the product.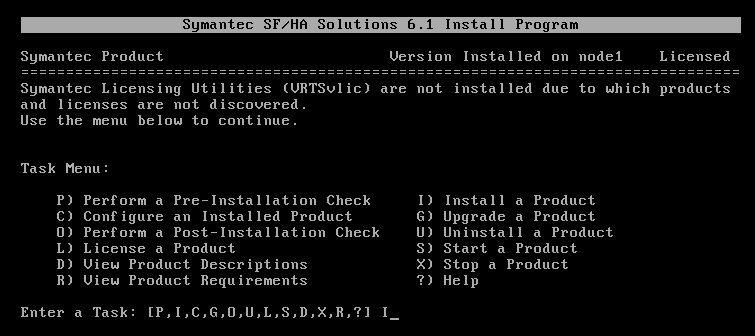 4. Though we can directly install any of the SFHA product, but it is always better that you perform a pre-installation check. So for that you will have to choose option "P" in step 3 instead of "I". Below shown the pre-installation check done for two nodes.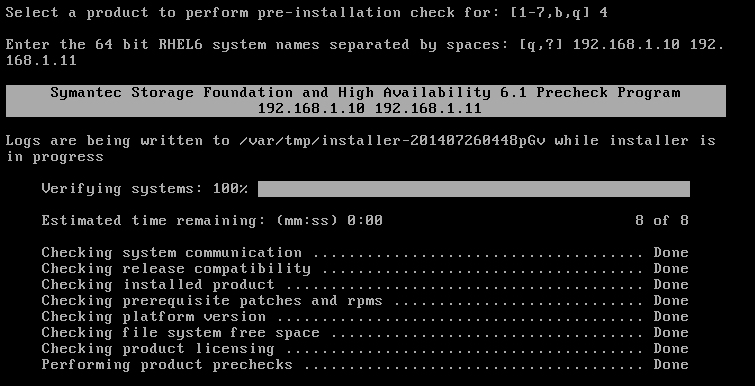 This setup will ask for which product it has to do pre-check and will also ask you node names. As we have not done the DNS setup in our fresh installed machines, so we have given IP's instead of FQDN. IP used in this tutorial are 192.168.1.10 and 192.168.1.11. You can use any IP of the same network of your choice.
5. After pre-installation check. You will have to choose the product you want to install. As we are installing Symantec Storage Foundation and High Availability (SFHA), so we are choosing option 4.

6. Now the installer program will give you the option to install RPM's. Just choose option 3 to install all RPM's on both the nodes.

7. Now the installer will show RPM list which it is going to install, here press ENTER.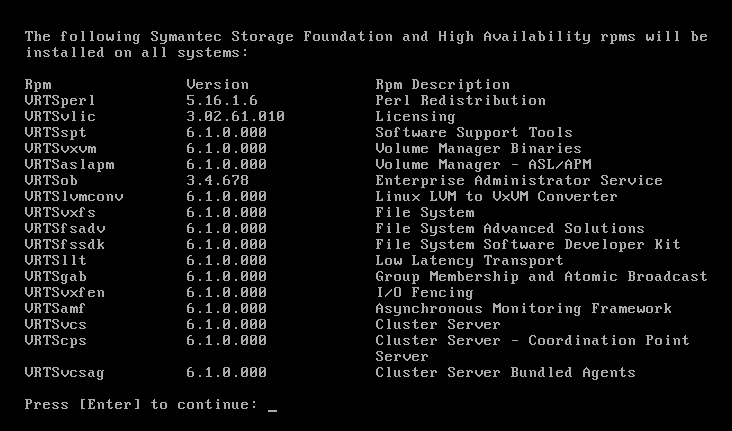 After pressing enter you will see the progress of your installation and for all the successful installation it will show done. If any rpm failed to install then you will see an error.

You may also get partially done status if RPM's installed in one node only. Check logs for that.
8. In license screen choose option 2, which enables keyless licensing and if you have license you can choose option 1. You can always modify your license details later. Check license detail with vxlicrep command.

You will also see some more options like replication and Global cluster, choose "n" for no as shown below.

After this, your installation will complete and you can use your product. This installation is for both the nodes. You don't have to install this setup again on node2.

Hope you found this tutorial helpful in installing Symantec SFHA product. Let us know your feedback about this. If you like our tutorial and want more free storage tutorial on your email, then don't forget to subscribe to our newsletter.
Note: Veritas is now independent company.