Cloud computing is growing exponentially and thus resulting in a proportional increase in the companies providing cloud services. Everybody wants to dive into this field. The latest competitor for Google Cloud and AWS which has entered in Cloud computing services is Alibaba. And in this article, we are going to know more about "Alibaba Cloud Services" and its component.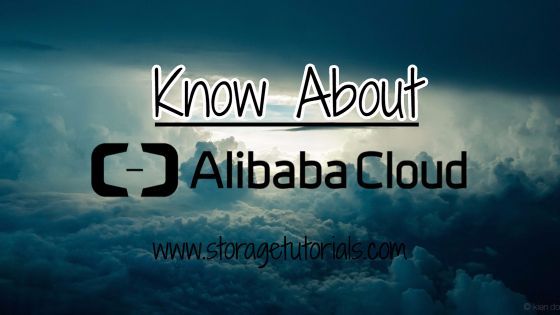 Alibaba cloud is a business unit of the Alibaba Group that provides cloud computing services to their customers all over the world. Currently, Alibaba Cloud is trusted by over 2.3 million customers worldwide, and is an Official Cloud Services Partner to the Olympic Games
They also power their own e-commerce system with their cloud services. Alibaba cloud has successfully managed to spread out their services through their international teams in Frankfurt, Dubai, Hong Kong, New York, London, Paris, Seoul, San Mateo, Sydney, Singapore, and Tokyo.
Alibaba Cloud Services:
Various Alibaba Cloud Services include:

1. Elastic Computing
2. Security
3. Database
4. Application Service
5. Networking
6. Media Services
7. Storage & CDN
8. Domains & Website
9. Analytics
10. Management

Elastic Computing
Alibaba Cloud Elastic Compute Service (ECS) provides the latest CPUs with quick memory that enables you to achieve faster and better outcomes for powering your cloud-based applications. It also provides protection against trojan attacks and Denial of Services. With an easy deployment of ECS, you can scale up or scale down the capacity according to what your business demands. Alibaba Cloud Elastic Compute service eradicates the need of hiring staff and costly IT infrastructure.
You can launch new instances at once and meet real-time demands with a wide variety of operating systems, CPU, memory, IPs, storage, and images.Some latest features include custom backups and auto snapshots that help you test operating systems or new tasks. Three types of storage are supported- Basic Cloud Disk, SSD Cloud Disk, and Ultra Cloud Disk.
Security
Various security services like Anti-DDoS Basic, Anti-DDoS Pro, Mobile Security, Web Application Firewall, and Server Guard are offered by Alibaba cloud. Anti-DDoS Basic, combined with ECS instances to protect your applications and data from DDoS attacks and supervises your security measures making them more visible and controllable.
Anti-DDoS Basic helps you to meet stringent security requirements for your cloud hosting architecture without any investment. The best thing about this service is that it is available free of cost to the customers.
Anti-DDoS Pro is a protection service that ensures high availability and gives full protection to any online business from various kinds of DDoS attacks that are malicious. It is recommended for large organizations that carry out online payments. For small-scale businesses or websites, the free version is enough. Its installation and set up is easy and hassle-free.
Most of the internet users nowadays are mobile users that use devices like smartphones and tablets to carry out online transactions. This requires a level of mobile security. Alibaba Cloud Mobile Security ensures that the information is end to end encrypted and provides protection against malware and information theft.
The Web Application Firewall provided by Alibaba cloud computing services is meant to provide protection and safeguard the availability and security of your website. WAF protects your site from attacks including XSS, SQL injections, command execution vulnerabilities, Malicious BOT, and other frequent attacks that occur via web.
The Server Guard monitors your databases and servers in real time and offers secure and reliable services. It analyses the vulnerabilities of your applications and services and ensures efficient availability.
DTplus
MaxCompute is a fully managed, general purpose, multi-tenancy platform for data processing meant for warehousing of large-scale data. It reduces the cost of production and provides enhanced data security. Data IDE provides development of Big Data, management of data permissions, offline job-scheduling, etc.
Database
Various database services that Alibaba cloud provides are- ApsaraDB for RDS, ApsaraDB for Redis, ApsaraDB for MongoDB, Data Transmission Service (DTS), and HybridDB for PostgreSQL.
RDS stands for Relational Database Service. It is an on-demand service that saves you the trouble of managing a database and gives you more time to concentrate on developing your business. Alibaba offers this service on SQL Server, MySQL, and PostgreSQL. It protects the database against network attacks and detects brute force attacks, SQL injections, etc.
ApsaraDB for Redis is a scalable and automated tool made for developers for the management of data storage that is shared across multiple applications, processes, or servers. It enables data persistence with the use of hard disk and memory storage. It retrieves data from in-memory caches due to its high-speed read-write capabilities. It supports advanced data structures such as counting, leaderboard, session, and tracking.
ApsaraDB for MongoDB is an elastically scalable, secure, and reliable, cloud-based database service that can easily be deployed in a small number of steps. It provides services like backup, monitoring, and disaster tolerance qualities. It saves you the trouble of performing management tasks related to database and lets you concentrate on the enhancement of your business or organization.
Data Transmission Service (DTS) aids in the migration of data among data storages, like NoSQL, relational database, and OLAP. DTS can also be used for the continuous replication of data with great availability. With the help of DTS, one can easily implement services such as remote real-time data backup, data migration, real-time integration of data and cache refresh.
ApsaraDB HybridDB for PostgreSQL is a Massively Parallel Processing service for data warehousing that provides monitoring of performance and online expansion services. This empowers database managers, designers, and information experts to concentrate on overhauling endeavor profitability through SQL improvement.
Application Service
Application services include API Gateway, Log Service, and Direct Mail. Programming interface Gateway furnishes you with a total API facilitating administration, sharing your abilities, administrations, and information with your accomplices as APIs. It enables endeavors to share abilities and to concentrate on their individual business and accomplish a win-win circumstance.
Log Service helps increment Operations and Management and operational effectiveness, in addition, fabricate the preparing ability to manage huge logs. DirectMail is a straightforward and productive support of send email notices and cluster email rapidly and proficiently without the need to assemble your own email server. DirectMail is a key item to serve Alibaba's own web-based business stages. DirectMail ensures steady and high change rates crosswise over different mail channels.
Networking
Networking services include Virtual Private Cloud and Express Connect. Virtual Private Cloud is a secluded cloud organize worked for private use. VPC furnishes clients with the most extreme control over information, security, and assets, including the design of course tables, organize passages and choice of IP addresses to go. Express Connect is an advantageous and proficient system benefit. It gives a quick, steady, secure and private or devoted system correspondence between various cloud conditions.
Media Services
Media Services give superior quality and smooth live sound and video benefits that can be accessed with low dormancy and high simultaneousness.
Storage & CDN
Storage services empower you to store, reinforcement, and archive a lot of information on the cloud. CDN empowers clients to viably lessen site reaction time, guarantee smooth streaming of videos and handle vast traffic. Right now they are having 530+ CDN nodes around the world and 15 international data centers.
Domains & Website
These services include low-cost web hostings, Domain name, and DNS. Alibaba webhosting starts with $0.99/month with $5.99 per domain name. It gives FREE Alibaba cloud DNS and supports WordPress, Joomla, etc.
Analytics
This is a solution for big data processing to process large amounts of data quickly.
Management
Management services provide an adaptable checking administration that gives inside and out experiences into your cloud organizations. CloudMonitor gives progressed examination on basic metrics, for example, CPU usage, idleness and furthermore gives you a chance to alter metrics particular to business necessities.
Why Choose Alibaba Cloud services?
They follow a pay-as-you-go policy while offering their services that consist of data storage, big-data processing, relational databases, content delivery networks (CDN) and anti-DDoS protection. Their consistent and constant R&D efforts comprise of IoT (Internet of Things) advancement technology, virtual reality, automotive information systems and networking, smart homes, and mobile operating systems based on the cloud. Alibaba cloud computing company has a top-notch infrastructure that is always expanding that makes it a leading provider of cloud-based services at a global level.
---
The importance of cloud in today's world is undeniable. It relieves the organization of the burden of carrying out storage-related tasks and also eradicates the need to hire technical staff for managing storage requirements. This, in turn, allows the company to focus precisely on the development of their business. Therefore, using the best cloud services are a must for any business to flourish. On this note, it can easily be said that Alibaba Cloud Computing services is also one of the best options as far as storage of critical data of an organization is concerned.