In IT infrastructure, Storage plays a very important role, as all the data which is created is stored on storage devices. There are many different ways a data can be shared or accessed, like Storage Area Network (SAN) which we discussed in our earlier post. Today we are going to explore about Network attached storage (NAS). And you will get answer to your question, what is network attached storage?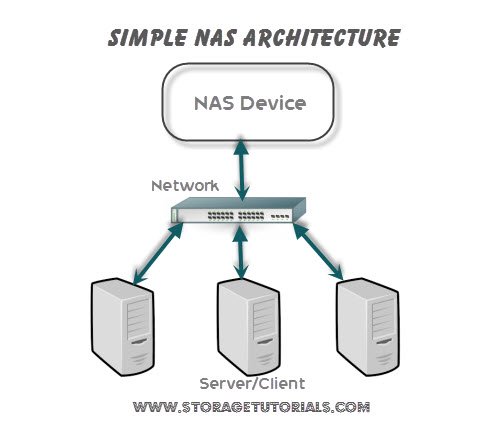 Network attached storage commonly called as NAS and is an IP-based file sharing device which is attached to a local area network (LAN). Common advantage of using Network Attached storage (NAS) is that, it provides the advantages of server consolidation by eliminating the need for multiple file servers.
Recommended Article: How to do Online Storage Migration in Unix/Linux
The advantage of storage consolidation is provided by file-level data access and sharing, while SAN used block level data access and sharing.

It is a better storage solution that allows clients to share files easily with speed with minimum storage management issues like resource utilization. Network attached storage (NAS) also helps in removing bottlenecks that users face when accessing files from a general purpose server.
NAS was born to remove the disadvantages which were face by using direct-attached storage (DAS). In DAS, the storage device was directly attached to each individual server and was not shared, thus resource utilization was not proper.

As the name suggest, Network Attached Storage (NAS) is something like a Storage device which is connected to a network and clients or users are accessing it. It uses network and file-sharing protocols to perform filing and storage functions. TCP/IP protocols are used for data transfer and the common internet file system (CIFS) and network file sharing (NFS) for remote file service. These remote file sharing techniques are widely used in IT industry for Windows and UNIX respectively.
Features of Network Attached Storage (NAS)
File level data access
Dedicated and High Performance
High speed
Single purpose file serving and storage system
Support multiple interfaces and networks
Cross platform support
Centralized storage and many more
You will be amazed to know that Network Attached Storage (NAS) devices have their own operating system and corresponding hardware for their working and its OS is optimized for file Input/Output and, therefore, performs file I/O better than a general purpose server. As a result, a Network Attached Storage (NAS) device can provide service to more clients than normal file servers, providing the benefit of server consolidation.
Components of Network Attached Storage (NAS)
A NAS device has the below components:
NAS head (CPU and Memory)
One or more network interface cards (NICs), which provide connectivity to the network. Examples of NICs include Gigabit Ethernet, Fast Ethernet, ATM, and Fiber Distributed Data Interface (FDDI).
An optimized operating system for managing NAS functionality
NFS and CIFS protocols for file sharing
Industry-standard storage protocols to connect and manage physical disk resources, such as ATA, SCSI, or FC
In this article, we did not went deep and only discussed what is NAS and its components. The motive of this article was to just provide you basic information for better understanding. Advance tutorial on Network Attached Storage (NAS) will posted afterwards and we will also discuss about different network attached storage devices and their review. Let us know if you have any doubt in above tutorial, we will be happy to help.